Build a Multi-Media Slideshow
Understanding Aspect Ratios
Aspect ratios describe the relationship between the width and the height, in this case for a video frame. The standard format for HDTV is 16:9, pronounced sixteen by nine. Before the advent of high-definition television, 4:3 (four by three) was the standard for televisions.
In an effort to differentiate themselves from broadcast television, Hollywood uses different widescreen formats with the most common one being 1.85:1.  There are other formats including Imax and Ultra Panavision that are utilized in Hollywood, but these are dependent on special cameras.
As far as picking which aspect ratio to use there is no hard, fast rule that determines which size is the best.  It normally depends on the audience and where the video will be shown.  For the purposes of this class, we will use the standard 16:9 aspect ratio for our projects.
---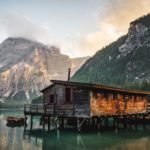 Seclusion in Lago di Braies by Luca Bravo available on Unsplash
https://unsplash.com/photos/hFzIoD0F_i8
Text adapted from: "Aspect Ratio" by Wikipedia is licensed under CC BY SA 3.0

This work is licensed under a Creative Commons Attribution-ShareAlike 4.0 International License.